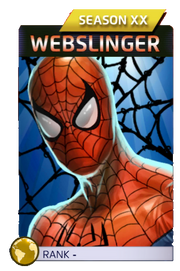 Main article: Webslinger
Join forces with a Powered-Up Spider-Man (Classic) to face down the forces of justice with some quick moves and a quicker wit!

Keep your spider-sense tuned in as you swing up the leaderboards! Protect yourself by raising SHIELDS and then fight back later!

Check out the Webslinger cover packs to have Spider-Man (Classic) join your ranks permanently!
Power-Up Characters
Edit
New Characters
Edit
X-23 (All-New Wolverine)
Red Hulk (Thunderbolt Ross)
Cyclops (Classic)

This Week
Edit





Ant-Man (Scott Lang)
Nick Fury (Director of S.H.I.E.L.D.)





Deadpool (It's Me, Deadpool!)
Doctor Octopus (Otto Octavius)
Gamora (Guardians of the Galaxy)
Iron Fist (Immortal Weapon)
Black Widow (Grey Suit)




Thor (Marvel NOW!)
Wolverine (Astonishing X-Men)



Yelena Belova (Dark Avengers)
Hawkeye (Classic)

Event Rewards
Edit
Leaderboard Awards
Edit
| Rank | Rewards |
| --- | --- |
| 1 | Professor X (Charles Xavier) ( Power) Plus all rewards from previous rank. |
| 2-5 | Magneto (Classic) (, and Powers), 5000 , 100 . |
| 6-10 | Magneto (Classic) ( and Powers), 2000 , 100 . |
| 11-25 | Magneto (Classic) ( and Powers), 1000 , 50 . |
| 26-50 | Magneto (Classic) ( Power), 1000 , 50 . |
| 51-100 | Magneto (Classic) ( Power), 500 , 25 . |
| 101-200 | Bullseye (Dark Avengers) ( Power), 500 . |
| 201-300 | Bullseye (Dark Avengers) ( Power), 250 . |
| 301-400 | Recruit Token (Standard) x2, 140 . |
| 401-500 | Recruit Token (Standard), 70 . |
Alliance Awards
Edit
| Rank | Rewards |
| --- | --- |
| 1-2 | Magneto (Classic) ( Power), 5000 , 250 . |
| 3-10 | Magneto (Classic) ( Power), 5000 , 100 . |
| 11-25 | Magneto (Classic) ( Power), 3000 , 100 . |
| 26-50 | Magneto (Classic) ( Power), 2000 , 100 . |
| 51-100 | Magneto (Classic) ( Power), 1000 , 50 . |
| 101-250 | 1000 , 50 . |
| 251-500 | 500 , 25 . |
| 501-1000 | 500 . |
| 1001-10000 | 250 . |
Progression Rewards
Edit
Webslinger Comic Sale
Edit
Webslinger Comic
Edit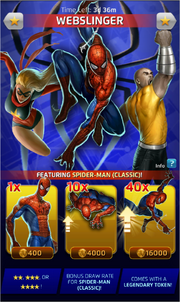 During the Webslinger Event you can buy comics from these special packs:

Drop RatesEdit