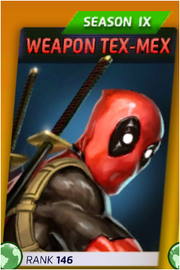 Joins forces with Deadpool and eliminate your opponents under an assault of cold steel, flippant repartee, and cetacean blubber!

If reaching the top of the leaderboards is going to secure Deadpool a paycheck, then that's what you're going to help him do - or else...

Protect yourself by raising Shields!

I won't think less of you for hiding behind a shield - fear is a natural reaction when people try to hurt you.

I've been hurt by unfeeling words too often to count.

They leave marks you know. Scars that no-one sees. I've got real scars too! You wanna see 'em?

But that's what this job is all about, amiright?

Harsh language, callous flesh wounds, major arterial bleeding, organ failure - nothing you can't bounce back from with the right attitude and a healing factor.

You don't have a healing factor? Don't sweat it.

The right attitude is what's really important. Positive thinking. Mind-over-matter.

Oh, hey is this your intestine?

Want him on your roster? Tough! you think he's going to work for you? Sh'right...

Well ok, as long as you asked so nicely, you might find Deadpool (It's Me, Deadpool!) in the Weapon Tex-Mex Cover Pack!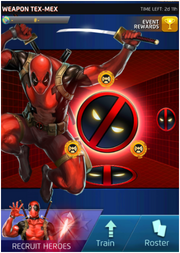 Power-Up Characters
Edit
Deadpool (It's Me, Deadpool!) - 150%

Event Rewards
Edit
Leaderboard Awards
Edit
| Rank | Rewards |
| --- | --- |
| 1 | Wolverine (X-Force) ( Power) Plus all rewards from previous rank. |
| 2-5 | Daredevil (Man Without Fear) (, and Powers), 5000 Iso-8, 100 Hero Points. |
| 6-10 | Daredevil (Man Without Fear) ( and Powers), 2000 Iso-8, 100 Hero Points. |
| 11-25 | Daredevil (Man Without Fear) ( and Powers), 1000 Iso-8, 50 Hero Points. |
| 26-50 | Daredevil (Man Without Fear) ( Power), 1000 Iso-8, 50 Hero Points. |
| 51-100 | Daredevil (Man Without Fear) ( Power), 500 Iso-8, 25 Hero Points. |
| 101-200 | Ares (Dark Avengers) ( Power), 500 Iso-8. |
| 201-300 | Ares (Dark Avengers) ( Power), 250 Iso-8. |
| 301-400 | Recruit Token (Standard) x2 ,140 Iso-8. |
| 401-500 | Recruit Token (Standard) ,70 Iso-8. |
Alliance Awards
Edit
| Rank | Rewards |
| --- | --- |
| 1-2 | Daredevil (Man Without Fear) ( Power), 5000 Iso-8, 250 Hero Points. |
| 3-10 | Daredevil (Man Without Fear) ( Power), 5000 Iso-8, 100 Hero Points. |
| 11-25 | Daredevil (Man Without Fear) ( Power), 3000 Iso-8, 100 Hero Points. |
| 26-50 | Daredevil (Man Without Fear) ( Power), 2000 Iso-8, 100 Hero Points. |
| 51-100 | Daredevil (Man Without Fear) ( Power), 1000 Iso-8, 50 Hero Points. |
| 101-250 | 1000 Iso-8, 50 Hero Points. |
| 251-500 | 500 Iso-8, 25 Hero Points. |
| 501-1000 | 500 Iso-8. |
| 1001-10000 | 250 Iso-8. |
Progression Rewards
Edit
Weapon Tex-Mex Comic Sale
Edit
Weapon Tex-Mex Comic
Edit
During the Weapon Tex-Mex Event you can buy comics from this special packs: