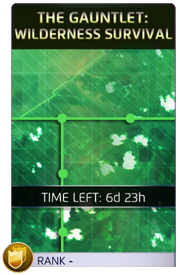 Can you run THE GAUNTLET? Each Advanced Combat Simulator mission unlocks the next harder mission. Each mission gives you points once. Beat the last mission to unlock the next chapter.

This chapter tests your skills in Wilderness Survival. Beat the last mission to unlock the next chapter.
The Gauntlet Alpine Tactics
The Gauntlet Global Domination

Description
Edit
A total of 14 "Simulation" + 6 "Essential" battles. To unlock next stage you need to finish all 14 "Simulation" battles. All 6 Essential battles require Mystique. This event only has Progression rewards - you gain points for completing each battle once, and need to complete all battles to get all rewards.
This run rearranged the rewards slightly to include a Legendary cover.
Powered Up Characters
Edit
Invisible Woman (Classic)
Mystique (Raven Darkholme)
Captain Marvel (Ms. Marvel)

This Week
Edit
Professor X (Charles Xavier)
Star-Lord (Legendary Outlaw)
Captain America (Steve Rogers)
Deadpool (It's Me, Deadpool!)
Human Torch (Johnny Storm)
Quicksilver (Pietro Maximoff)
Spider-Man (Classic)
Magneto (Marvel NOW!)
Bullseye (Dark Avengers)
Venom (Dark Avengers)
Hawkeye (Classic)

Event Rewards
Edit
Progression Rewards
Edit
The Gauntlet Comic Sale
Edit
During The Gauntlet Event you can buy comics from this special pack:

Community content is available under
CC-BY-SA
unless otherwise noted.