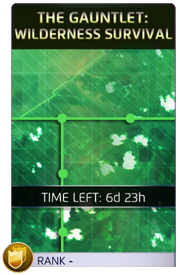 Can you run THE GAUNTLET? Each Advanced Combat Simulator mission unlocks the next harder mission. Each mission gives you points once. Beat the last mission to unlock the next chapter.

Be one of the first 10 people to beat all missions in Wilderness Survival and win a 10x Gauntlet Token!
This chapter tests your skills in Wilderness Survival. Beat the last mission to unlock the next chapter.
The Gauntlet Alpine Tactics
The Gauntlet Global Domination

Description
Edit
A total of 14 "Simulation" + 6 "Essential" battles. To unlock next stage you need to finish all 14 "Simulation" battles. All 6 Essential battles require Daredevil (Man Without Fear). There are two types of event rewards in this run: Progression rewards (you gain points for completing each battle once, need to complete all battles to get all rewards) and Placement rewards (need to be one of the first people to finish all battles)
Powered Up Characters
Edit
Daredevil (Man Without Fear) + 90 Level
The Hood (Classic) + 30 Level
The Punisher (Dark Reign) + 30 Level
Magneto (Marvel NOW!) + 40 Level
Captain America (Modern) + 40 Level
Human Torch (Johnny Storm) + 40 Level

Event Rewards
Edit
Progression Rewards
Edit
Placement Rewards
Edit
The Gauntlet Comic Sale
Edit
During The Gauntlet Event you can buy comics from this special pack:

Community content is available under
CC-BY-SA
unless otherwise noted.