Starting Time: 10/22/2015
Ending Time: 11/16/2015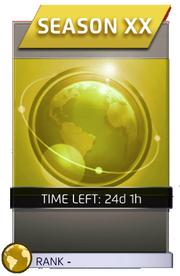 Season XX has begun!
Take part in any Season XX event and you'll earn points towards your Season ranking at the same time!
Compete with your friends over multiple Versus events for enormous Iso-8, Hero Points, and cover rewards!
Team up with your Alliance to win a Legendary Token!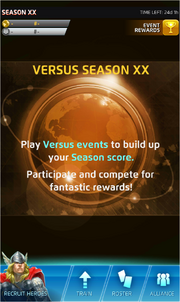 Events in this season
Edit

S.H.I.E.L.D. Versus (Season XX)


CoverSquirrel


Immortal Rage


Stay on Target


High Stakes


Webslinger


Magnetic Mayhem


Track and Slash


Starfall


Sharp Dressed


Lethal Intent

Event Rewards
Edit
Leaderboard Awards
Edit
| Rank | Rewards |
| --- | --- |
| 1 | Recruit Token (Heroic) (Heroic 10-Pack) x4, 1000 , 100 |
| 2-5 | Recruit Token (Heroic) (Heroic 10-Pack) x3, 1000 , 100 |
| 6-10 | Recruit Token (Heroic) (Heroic 10-Pack) x2, 1000 , 100 |
| 11-25 | Recruit Token (Heroic) (Heroic 10-Pack) x2, 500 , 50 |
| 26-50 | Recruit Token (Heroic) (Heroic 10-Pack), 500 , 50 |
| 51-100 | Recruit Token (Heroic) x5, 500 , 50 |
| 101-250 | Recruit Token (Heroic) x4, 500 , 50 |
| 251-500 | Recruit Token (Heroic) x3, 500 , 50 |
| 501-1000 | Recruit Token (Heroic) x3, 500 , 25 |
| 1001-1500 | Recruit Token (Heroic) x2, 500 , 25 |
| 1501-2000 | Recruit Token (Heroic) x2, 250 , 25 |
| 2001-2500 | Recruit Token (Heroic), 250 |
| 2501-3000 | Recruit Token (Heroic), 140 |
| 3001-4000 | Recruit Token (Standard) x2, 70 |
| 4001-5000 | Recruit Token (Standard), 70 |
Alliance Awards
Edit
| Rank | Rewards |
| --- | --- |
| 1-5 | Legendary Token, 2500 , 100 |
| 6-25 | Legendary Token, 1000 , 50 |
| 26-100 | Legendary Token, 500 , 25 |
| 101-250 | Recruit Token (Heroic) x3, 500 , 25 |
| 251-500 | Recruit Token (Heroic) x2, 500 , 25 |
| 501-750 | Recruit Token (Heroic) x2, 500 |
| 751-1000 | Recruit Token (Heroic), 500 |
| 1001-2500 | Recruit Token (Heroic), 250 |
| 2501-5000 | Recruit Token (Standard) x2, 140 |
| 5001-50000 | Recruit Token (Standard) x2, 70 |
Progression Rewards
Edit