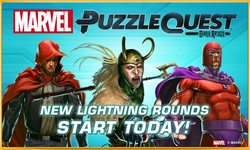 Lightning Rounds Tournaments are very quick time limited rounds of 90 minutes. Each Tournament has a particular Hero or Villain featured. These Tournaments used to be randomly available, but are currently on a fixed schedule. The Lightning Rounds begin at 1:00 p.m. EDT on Tuesday and run through 1:00 p.m. EDT on Thursday. These Tournaments are unbracketed, so pit your skills against all other Agents and their teams!
Current Lightning Rounds
Edit
There are 10 different Lighting Round tournaments 5 featured villians and 5 featured heroes
Featured Villians
Edit
Featured Heroes
Edit
Inactive Lightning Rounds
Edit
With the release of Season VII The Lightning Rounds change to reflect the changes happened in the availability of Recruiting Heroes.

Inactive Villains Lightning Rounds
Edit
Inactive Heroes Lightning Rounds
Edit
Lightning Round Comic Sale
Edit
Lightning Offer VillainsEdit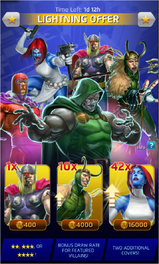 During the Lightning Round Event you can buy comics from this special packs:

Percentage for Villains Pack
Edit
Lightning Offer HeroesEdit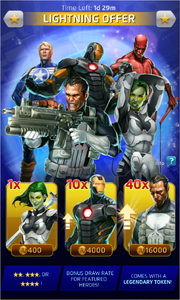 During the Lightning Round Event you can buy comics from this special packs:

Percentage for Heroes Pack
Edit