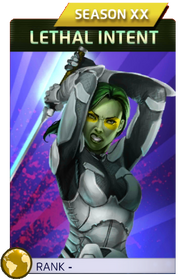 Main article: Lethal Intent
Join forces with a Powered-Up Gamora and take revenge on anyone who does you harm.
Defeat opponents to gain points and glory! Protect yourself by raising SHIELDS and then fight back later!
Check out the Lethal Intent cover packs to have Gamora join your ranks permanently!
Power-Up Characters
Edit
Gamora (Guardians of the Galaxy)

New Characters
Edit
This Week
Edit





Invisible Woman (Classic)
Iceman (All New X-Men)





Loki (Dark Reign)
Bullseye (Classic)
Vision (Android Avenger)
Iron Man (Model 40)
Human Torch (Classic)




Captain Marvel (Ms. Marvel)
Magneto (Marvel NOW!)



Spider-Man (Original)
Black Widow (Modern)

Event Rewards
Edit
Leaderboard Awards
Edit
| Rank | Rewards |
| --- | --- |
| 1 | Thor (Goddess of Thunder) ( Power) Plus all rewards from previous rank. |
| 2-5 | Storm (Mohawk) (, and Powers), 5000 , 100 , 2 . |
| 6-10 | Storm (Mohawk) ( and Powers), 2000 , 100 , 2 . |
| 11-25 | Storm (Mohawk) ( and Powers), 1000 , 50 , 1 . |
| 26-50 | Storm (Mohawk) ( Power), 1000 , 50 , 1 . |
| 51-100 | Storm (Mohawk) ( Power), 500 , 25 . |
| 101-200 | Captain Marvel (Ms. Marvel) ( Power), 500 . |
| 201-300 | Captain Marvel (Ms. Marvel) ( Power), 250 . |
| 301-400 | Recruit Token (Standard) x2, 140 . |
| 401-500 | Recruit Token (Standard), 70 . |
Alliance Awards
Edit
| Rank | Rewards |
| --- | --- |
| 1-2 | Storm (Mohawk) ( Power), 5000 , 250 . |
| 3-10 | Storm (Mohawk) ( Power), 5000 , 100 . |
| 11-25 | Storm (Mohawk) ( Power), 3000 , 100 . |
| 26-50 | Storm (Mohawk) ( Power), 2000 , 100 . |
| 51-100 | Storm (Mohawk) ( Power), 1000 , 50 . |
| 101-250 | 1000 , 50 . |
| 251-500 | 500 , 25 . |
| 501-1000 | 500 . |
| 1001-10000 | 250 . |
Progression Rewards
Edit
Lethal Intent Comic Sale
Edit
Lethal Intent Comic
Edit
During the Lethal Intent Event you can buy comics from these special packs:

Drop RatesEdit
| | 40 Pack | 10 Pack | 1 Pack |
| --- | --- | --- | --- |
| Gamora (Guardians of the Galaxy) | 6.0% | 6.0% | 2.3% |
| Uncommon | 5.1% | 5.1% | 5.4% |
| Rare | 0.6% | 0.6% | 0.6% |
| Legendary | 0.2% | 0.2% | 0.2% |