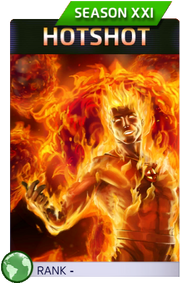 Join forces with the Human Torch (Classic) and light up the night in style!
Set the opposition ablaze with your incendiary assault and burn up the leaderboards! Protect yourself by raising SHIELDS and then fight back later!
Want him on your roster? Get your own Human Torech (Classic) in the Hotshot cover packs!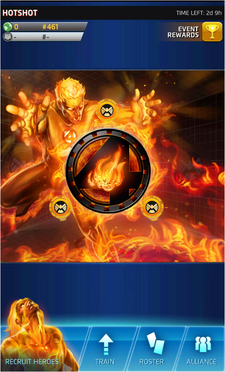 Power-Up Characters
Edit
New Characters
Edit
This Week
Edit





Red Hulk (Thunderbolt Ross)
The Thing (Classic)





Cyclops (Uncanny X-Men)
Squirrel Girl (Unbeatable)
Blade (Daywalker)
The Hood (Classic)
Psylocke (Classic)




Bullseye (Dark Avengers)
Ares (Dark Avengers)



Yelena Belova (Dark Avengers)
Hawkeye (Classic)

Event Rewards
Edit
Leaderboard Awards
Edit
| Rank | Rewards |
| --- | --- |
| 1 | Iceman (All New X-Men) ( Power) Plus all rewards from previous rank. |
| 2-5 | Loki (Dark Reign) (, and Powers), 5000 , 100 , 2 . |
| 6-10 | Loki (Dark Reign) ( and Powers), 2000 , 100 , 2 . |
| 11-25 | Loki (Dark Reign) ( and Powers), 1000 , 50 , 1 . |
| 26-50 | Loki (Dark Reign) ( Power), 1000 , 50 , 1 . |
| 51-100 | Loki (Dark Reign) ( Power), 500 , 25 . |
| 101-200 | Steve Rogers (Captain America) ( Power), 500 . |
| 201-300 | Steve Rogers (Captain America) ( Power), 250 . |
| 301-400 | Recruit Token (Standard) x2, 140 . |
| 401-500 | Recruit Token (Standard), 70 . |
Alliance Awards
Edit
| Rank | Rewards |
| --- | --- |
| 1-2 | Loki (Dark Reign) ( Power), 5000 , 250 . |
| 3-10 | Loki (Dark Reign) ( Power), 5000 , 100 . |
| 11-25 | Loki (Dark Reign) ( Power), 3000 , 100 . |
| 26-50 | Loki (Dark Reign) ( Power), 2000 , 100 . |
| 51-100 | Loki (Dark Reign) ( Power), 1000 , 50 . |
| 101-250 | 1000 , 50 . |
| 251-500 | 500 , 25 . |
| 501-1000 | 500 . |
| 1001-10000 | 250 . |
Progression Rewards
Edit
Hotshot Comic Sale
Edit
Hotshot Comic
Edit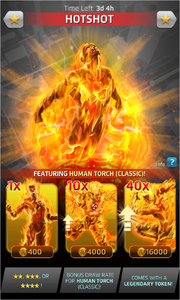 During the Hotshot Event you can buy comics from these special packs:

Drop RatesEdit
| | 40 Pack | 10 Pack | 1 Pack |
| --- | --- | --- | --- |
| Human Torch (Classic) | 6.0% | 6.0% | 2.3% |
| Uncommon | 5.1% | 5.1% | 5.4% |
| Rare | 0.6% | 0.6% | 0.6% |
| Legendary | 0.2% | 0.2% | 0.2% |