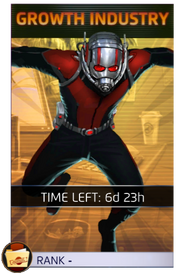 Started on: 07/09/2015
Ended on: 08/08/2015
Former burglar Scott Lang has the Ant-Man suit, but needs a job. Word is Tony Stark is hiring!
Team up with the foremost formic fortune-hunter and foil his foes! Complete all 5 missions to earn your own Ant-Man!
Small Business (Get It?)

Edit
Stark Industries' new security systems need a workout, and who knows better how to not get your stuff stolen than one of the world's best thieves-gone-good? But Black Widow, Star-Lord, Swordsman, Black Cat, and Paste-Pot Pete were all busy, so I guess you're up.
Enemies

Commander
Level 96

Iron Man
Level 97

Soldier
Level 96
Team Up

Ant-Man
Level 70
Rewards
500 Iso-8
500 Iso-8
500 Iso-8
500 Iso-8
Mustard Seed of Destruction

Edit
Remember when Rocket and Groot visited Doctor Doom and blew his Groot Experiments to smithereens? Groot called -we're going to need those smithereens back.
Enemies

Doctor Doom
Level 100

Defender
Level 101

Decoy
Level 100
Rewards
500 Iso-8
500 Iso-8
500 Iso-8
500 Iso-8
Inner Space Cadet
Edit
Deadpool's healing factor is bound to his cancer, so he kinda needs it. Travel on an incredible journey into Deadpool's bloodstream to cure his tennis elbow without curing his cancer! It's weird in there, but what happens in Deadpool's colon, stays in Deadpool's colon.
Enemies
Rewards
500 Iso-8
500 Iso-8
500 Iso-8
25 Hero Points
Okay, Yeah, They're Dolls

Edit
To deal with the stress of saving the world all the time and having too much money, Tony Stark likes to bash his state-of-the-art, AI-driven action figures together, making them fight or make out. He'll pay you to make it more realistic. (Just the fighting part.)
Enemies

Thor
Level 125

The Hulk
Level 126

Captain America
Level 126
Rewards
500 Iso-8
500 Iso-8
500 Iso-8
25 Hero Points
Event Rewards
Edit
Progression Rewards
Edit
Community content is available under
CC-BY-SA
unless otherwise noted.