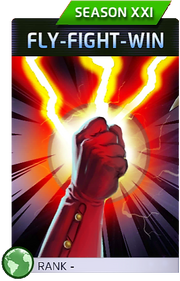 Join forces with Captain Marvel and unleash her power against your opponents in an unstoppable onslaught!
Show the world who's in charge as you battle your way to the top of the leaderboards! Protect yourself by raising SHIELDS and then fight back later!
Check out the Fly-Fight-Win cover packs to have Captain Marvel (Modern) join your ranks permanently!
Power-Up Characters
Edit
New Characters
Edit
This Week
Edit





Cyclops (Classic)
Mr. Fantastic (Reed Richards)





Beast (Classic)
Mystique (Raven Darkholme)
Cyclops (Uncanny X-Men)
Daredevil (Man Without Fear)
Quicksilver (Pietro Maximoff)




Human Torch (Johnny Storm)
Moonstone (Dark Avengers)



Iron Man (Model 35)
Juggernaut (Classic)

Event Rewards
Edit
Leaderboard Awards
Edit
| Rank | Rewards |
| --- | --- |
| 1 | Deadpool (Uncanny X-Force) ( Power) Plus all rewards from previous rank. |
| 2-5 | Cyclops (Uncanny X-Men) (, and Powers), 5000 , 100 , 2 . |
| 6-10 | Cyclops (Uncanny X-Men) ( and Powers), 2000 , 100 , 2 . |
| 11-25 | Cyclops (Uncanny X-Men) ( and Powers), 1000 , 50 , 1 . |
| 26-50 | Cyclops (Uncanny X-Men) ( Power), 1000 , 50 , 1 . |
| 51-100 | Cyclops (Uncanny X-Men) ( Power), 500 , 25 . |
| 101-200 | Steve Rogers (Captain America) ( Power), 500 . |
| 201-300 | Steve Rogers (Captain America) ( Power), 250 . |
| 301-400 | Recruit Token (Standard) x2, 140 . |
| 401-500 | Recruit Token (Standard), 70 . |
Alliance Awards
Edit
| Rank | Rewards |
| --- | --- |
| 1-2 | Cyclops (Uncanny X-Men) ( Power), 5000 , 250 . |
| 3-10 | Cyclops (Uncanny X-Men) ( Power), 5000 , 100 . |
| 11-25 | Cyclops (Uncanny X-Men) ( Power), 3000 , 100 . |
| 26-50 | Cyclops (Uncanny X-Men) ( Power), 2000 , 100 . |
| 51-100 | Cyclops (Uncanny X-Men) ( Power), 1000 , 50 . |
| 101-250 | 1000 , 50 . |
| 251-500 | 500 , 25 . |
| 501-1000 | 500 . |
| 1001-10000 | 250 . |
Progression Rewards
Edit
Fly-Fight-Win Comic Sale
Edit
Fly-Fight-Win Comic
Edit
During the Fly-Fight-Win Event you can buy comics from these special packs:

Drop RatesEdit
| | 40 Pack | 10 Pack | 1 Pack |
| --- | --- | --- | --- |
| Captain Marvel (Modern) | 6.0% | 6.0% | 2.3% |
| Uncommon | 5.1% | 5.1% | 5.4% |
| Rare | 0.6% | 0.6% | 0.6% |
| Legendary | 0.2% | 0.2% | 0.2% |