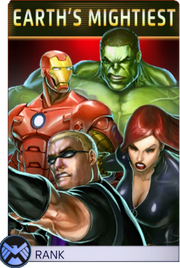 The Avengers face off against one another in S.H.I.E.L.D.'s Advanced Combat Simulator! Defeat opponents to earn points and climb the leaderboards.
Protect yourself by raising SHIELDS and then fight back later.
Looking for more Avengers? Pick up an EARTH'S MIGHTIEST pack.
Power-Up Characters
Edit






Black Widow (Natasha Romanoff)
Steve Rogers (First Avenger)
Doctor Strange (Sorcerer Supreme)
The Hulk (Bruce Banner)
Iron Man (Mark XLVI)






Ant-Man (Scott Lang)
Iron Man (Hulkbuster)
Luke Cage (Power Man)
Miles Morales (Spider-Man)
Nick Fury (Director of S.H.I.E.L.D.)
Nova (Sam Alexander)
Peggy Carter (Captain America)
Sam Wilson (Captain America)
Spider-Woman (Jessica Drew)
Thor (Goddess of Thunder)
War Machine (James Rhodes)
Wasp (Janet Van Dyne)





Beast (Classic)
Black Panther (T'Challa)
Black Widow (Grey Suit)
Captain Marvel (Modern)
The Hulk (Indestructible)
Iron Man (Model 40)
Kamala Khan (Ms. Marvel)
Luke Cage (Hero for Hire)
Quicksilver (Pietro Maximoff)
Sam Wilson (Falcon)
Scarlet Witch (Wanda Maximoff)
She-Hulk (Modern)
Steve Rogers (Super Soldier)
Spider-Man (Classic)
Squirrel Girl (Unbeatable)
Thor (Modern)
Vision (Android Avenger)




Captain Marvel (Ms. Marvel)
Hawkeye (Modern)
Steve Rogers (Captain America) Thor (Marvel NOW!)
Wolverine (Astonishing X-Men)



Black Widow (Modern)
Hawkeye (Classic)
Iron Man (Model 35)

Event Rewards
Edit
Earth's Mightiest Comic Sale
Edit
Earth's Mightiest Comic
Edit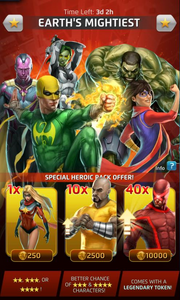 During the Earth's Mightiest Event you can buy comics from these special packs:

Drop RatesEdit
| Character Tier | 40 Pack | 10 Pack | 1 Pack |
| --- | --- | --- | --- |
| Uncommon | 5.1% | 5.1% | 5.4% |
| Rare | 0.6% | 0.6% | 0.6% |
| Legendary | 0.2% | 0.2% | 0.2% |
Community content is available under
CC-BY-SA
unless otherwise noted.