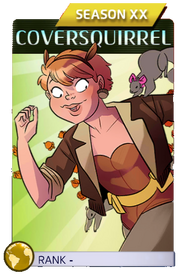 Main article: CoverSquirrel
Join forces with a Powered-Up Squirrel Girl and unleash your furry fury from above!
Watch towering foes fall before your acorn-fueled swarms as you scamper to the top of the leaderboards! Protect yourself by raising SHIELDS and then fight back later!
Check out the CoverSquirrel cover packs to have Squirrel Girl join your ranks permanently!
Power-Up Characters
Edit
New Characters
Edit
Red Hulk (Thunderbolt Ross)
Cyclops (Classic)

This Week
Edit





Wolverine (X-Force)
Elektra (Unkillable)





Daken (Classic)
Sentry (Dark Avengers)
Scarlet Witch (Wanda Maximoff)
Spider-Man (Classic)
Steve Rogers (Super Soldier)




Storm (Classic)
Hawkeye (Modern)



Black Widow (Modern)
Juggernaut (Classic)

Event Rewards
Edit
Leaderboard Awards
Edit
| Rank | Rewards |
| --- | --- |
| 1 | Red Hulk (Thunderbolt Ross) ( Power) Plus all rewards from previous rank. |
| 2-5 | Vision (Android Avenger) (, and Powers), 5000 , 100 . |
| 6-10 | Vision (Android Avenger) ( and Powers), 2000 , 100 . |
| 11-25 | Vision (Android Avenger) ( and Powers), 1000 , 50 . |
| 26-50 | Vision (Android Avenger) ( Power), 1000 , 50 . |
| 51-100 | Vision (Android Avenger) ( Power), 500 , 25 . |
| 101-200 | Black Widow (Original) ( Power), 500 . |
| 201-300 | Black Widow (Original) ( Power), 250 . |
| 301-400 | Recruit Token (Standard) x2, 140 . |
| 401-500 | Recruit Token (Standard), 70 . |
Alliance Awards
Edit
| Rank | Rewards |
| --- | --- |
| 1-2 | Vision (Android Avenger) ( Power), 5000 , 250 . |
| 3-10 | Vision (Android Avenger) ( Power), 5000 , 100 . |
| 11-25 | Vision (Android Avenger) ( Power), 3000 , 100 . |
| 26-50 | Vision (Android Avenger) ( Power), 2000 , 100 . |
| 51-100 | Vision (Android Avenger) ( Power), 1000 , 50 . |
| 101-250 | 1000 , 50 . |
| 251-500 | 500 , 25 . |
| 501-1000 | 500 . |
| 1001-10000 | 250 . |
Progression Rewards
Edit
CoverSquirrel Comic Sale
Edit
CoverSquirrel Comic
Edit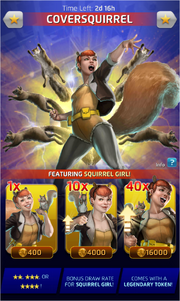 During the CoverSquirrel Event you can buy comics from these special packs:

Drop RatesEdit
| | 40 Pack | 10 Pack | 1 Pack |
| --- | --- | --- | --- |
| Squirrel Girl (Unbeatable) | 6.0% | 6.0% | 2.3% |
| Uncommon | 5.1% | 5.1% | 5.4% |
| Rare | 0.6% | 0.6% | 0.6% |
| Legendary | 0.2% | 0.2% | 0.2% |